Appearances
We perform year round at various events from private to international functions. To date, you may have seen us at Edmonton's annual Cariwest, Heritage Days, and Fringe Festivals. Here are some of our most proud appearances to date:
City of Edmonton representation at week-long CFL Grey Cup Finals: Winnipeg
2001 IAAF World Games Opening Ceremonies: Edmonton
Point Fortin Borough Day Celebrations: Trinidad and Tobago
Caribana Festival Appearances: Toronto
Overall Best Entry at Klondike Days Parade: Edmonton
FIFA World Cup Soccer Canada vs. Trinidad: Edmonton
Hip Hop for Hope - Crossing Cultures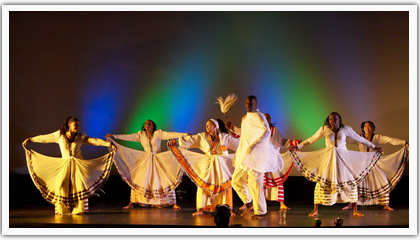 Movements can also be seen in performances with other notable dance companies. We're proud to have appeared on stage with the following organizations:
Victoria School for the Arts
Edmonton School of Ballet
National Ice Theatre
Brian Webb Dance Company at Grant MacEwan
Take a look at our image gallery to get a feel for our dynamic performances. Then, contact us for your next event. We're sure to inspire your guests!
Our hard work and dedication have proved tremendously rewarding: we've won several awards, including the Best Overall Entry award in Edmonton's Klondike Days Festival Parade, the Tropical Fever Award, a bronze medal at the Dance Power Competitions, and a nomination for the Laurel Award.